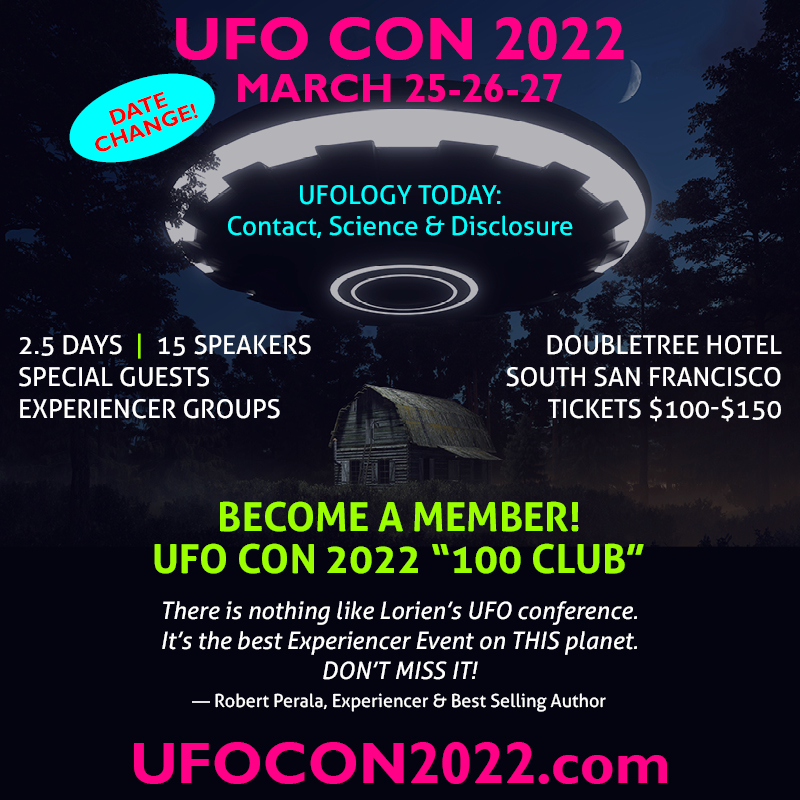 JOIN US IN SFO FOR ANOTHER GROUND BREAKING CONFERENCE!
JOIN US TO EXPERIENCE OUR AMAZING SPEAKERS AND SPECIAL GUESTS!
Committed as of 1/7/2022
SATURDAY NIGHT FESTIVITIES!
— SPECIAL GUEST KEYNOTE SPEAKER
— DAVE SCOTT Hosts the infamous "Liar, Liar" Game Show
— ROBERT PERALA'S Musicial Group, "Wings Over the Desert"
Alan Steinfeld – Author of "Making Contact"
Paul Hynek – "Does DMT Open a Communication Channel to ET?"
Miesha Johnston – Speaker Presentation TBA & Experiencer Groups during the Lunch Breaks
Jesus Payran, Jr. – "Bigfoot, ET & Me" (Actor: "Gonzo" – Breaking Bad and Better Call Saul)
Dave Scott – Presentation TBA (Owner and Host of Spaced Out Radio, BC Canada)
Matthew Derouen – "MattLabs Breakthrough Tech & Sightings 2021"
This is just the beginning of an amazing line-up! Keep checking back – we will finalize our speakers soon.
JOIN THE "UFO CON 100 CLUB"
PURCHASE YOUR $100 TICKET TO UFO CON 2022 BY FEB. 15th